FS Gliding Adds A Whole New Dimension To Flight Sim
(Rob Newbold, an avid glider in the UK and longtime Saitek customer, was kind enough to provide us with an intro to FS gliding. He also created the RW gliding videos you see here.)
Why gliding? Easy to start and difficult to master.
If you talk to many pilots you will find they started with gliding, glide at weekends even though they fly all manner of aircraft and many retire and carry on gliding. For example Neil Armstrong was a glider pilot.
It can be simple and competitive, beautiful and elegant, relaxing or sweat inducing. It's you and your decisions that make it what it is and puts you where you are.
FS gliding?
I'll be mega brief!
Gliding in FS can very closely replicate RL (real life) gliding.
Gliding in FS is free – all software you need is freeware.
1) Download some gliders
http://www.fsglider.de/index.htm –> a cornucopia of gliders to choose from
http://www.cbfsim.co.uk/cbfs_lib/index.php?cat=18 –> if you like the vintage T21 in my video's, you can fly one too.
2) Download Winch X! and Cumulus X
http://www.luerkens.homepage.t-online.de/peter/
These add a winch launch to complement the usual FS default aero tow and add thermals and ridge lift for you to learn to keep your glider in the air without an engine.
You can work out how to fly a glider from the help files in the above but much better to join http://www.ukvga.org/. It's free to join and there is a comprehensive help section and friendly forum who are happy to help beginners as well as more aircraft and scenery downloads. There are many RL competition glider pilots, RL gliding instructors, RL ex glider pilots, FSX pilots, other power pilots, tech and wise people all offering free help.
You can fly online at an online club meeting (run thru VAT sim just as a real gliding club, needs some other downloads) and thermal with other pilots online or you can download a task (complete with weather so everyone has the same conditions when they fly the task) fly offline and race around a competition course and post your results/highest/fastest/longest in the air or pretty snapshots.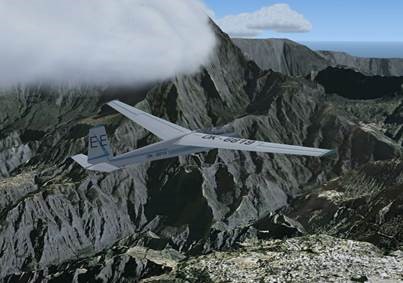 You can fly vintage gliders or sleek modern gliders. You can winch launch or aerotow. You can use ridge lift or thermal. There are instructors who can set up a link to your computer and teach you how to fly and talk you thru on a headset.

You can set up a flight computer which use the same software as you would find in a RL glider as well and start learning the problems of getting cross country into wind. Gliding can be very technical involving a lot of physics.

There is a badge system which also mimics the RL glider badge system. Some of them require you to keep your glider in the air for 5 hours and achieve a flight of 500Km. It requires a lot of skill!

There is always something new to learn.

To start, just join and read http://www.ukvga.org/gettingstarted.php.

Post in the forum to say "Hi!" along with any questions you have and it'll all start from there.

Caution and warning; FS gliding is addictive.

– Rob Newbold

Flight Sim gliding is more fun with a flight stick like the V.1 or FLY 5 or AV8R.  
---