"Visually and technically, the X-55 is successful and Saitek has once again 'landed' a direct hit." – Simulator World
"Thank you for making such a finely crafted HOTAS! Thanks for enriching my simming !" – Rob McCoy
"This is hands down the best affordable HOTAS. I highly recommend checking it out." – scrtagnt69
We've gathered up some links of interest including a review from Simulator World, an interview on SimHQ, videos, and a profile for the A-10C in DCS.
Check back here for more links as we get them! If you see something on the Rhino or even make you own review, send us a link on twitter @SaitekSim or on Facebook!!
BUY THE RHINO AT MADCATZ.COM (US/CAN/UK).
OFFICIAL X-55 RHINO H.O.T.A.S. PRODUCT PAGE
RHINO TECH SUPPORT FAQ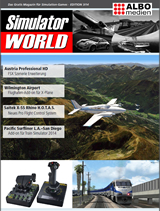 X-55 RHINO REVIEW IN SIMULATOR WORLD MAGAZINE (PDF)
English
German
Subscribe to their free monthly digital mag at simulatorworld.com
SIMHQ'S INTERVIEW WITH SAITEK'S TIM DI IULLO
LINK TO SHEIN'S A-10C RHINO PROFILE ON THE DCS FORUMS (Note: there may be some salty language on the forum.)
VIDEOS
NewEgg TV Interview
Spring Changing Tutorial
Unboxing Video
Teaser Trailer Video