Could Be The Best New HOTAS Concept In A Decade – Polygon
At last week's CitizenCon – the team from Cloud Imperium Games surprised attendees with a sneak-peek of Saitek's amazingly cool new prototypes for Star Citizen in 2015 and beyond. Leader of the Star Citizen universe Chris Roberts was on hand during the show, meeting and greeting fans and unveiling new insights into one of the most anticipated games in decades.
Sure, the crowd were giddy with excitement when they heard that genre legends Mark Hamill and Gillan Anderson had been cast as voice actors in the game, but far more importantly, Carl Jones, Roberts Space Industry's chief operating officer and head of business development, took the stageat CitizenCon to update fans on the latest progress of the all new Saitek range of Star Citizen hardware!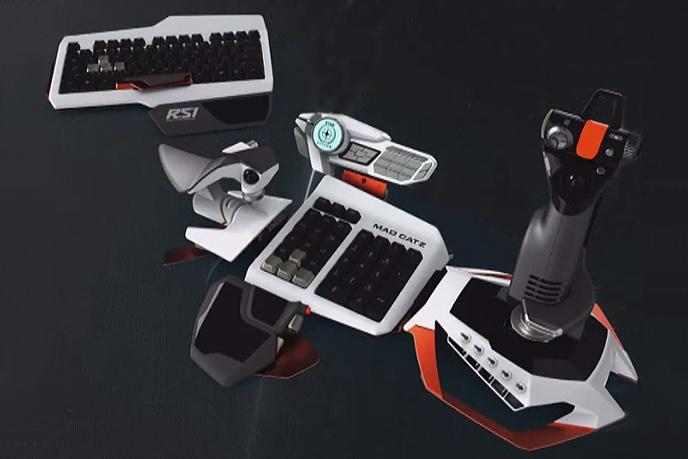 A few months back, Mad Catz announced that Saitek, world famous for precision simulation gaming hardware, would be releasing a full-suite of custom designed products for use in the Star Citizen universe. Our designers and engineers have been working closely with the genius creators of the game and don't intend to let fans down! The all new hardware, shown under museum glass cases only at CitizenCon "look positively stunning" (Polygon), and we've a long way to go yet!
The range will include a unique 'HOTAS', designed to offer an unprecedented level of control and customization, truly giving you an edge when playing Star Citizen.
Commenting to industry leading website Polygon, Carl Jones said, "The idea is that you can split it apart and combine it with other devices." With it, players will be able to fly with a joystick and keyboard, a joystick and throttle, two joysticks, or any combination Star Citizen products. The whole idea is that products in the range are totally modular, breaking apart and attaching in a way to accommodate the preferred style of the player.
Check Out More Coverage at Polygon, and Yahoo!
You can be sure that we'll have plenty more to show and discuss on the new range in the months ahead but in the meantime, make sure you bookmark Saitek.com, and follow us on social media.
---
Comments are closed.